Fonts are an essential element in graphic design. Apart from being able to convey a message, this type of font can also add an aesthetic and artistic touch. A graphic designer can use a certain type of font to reinforce the theme they want to present. For instance, in Hippie fonts, this lettering design is suitable for a unique and artistic vintage or retro style.
Interestingly, this typeface has many design choices with very good legibility. The good news is you can use this font for free. If you can't wait to find out what the different types are, let's take a look at some of the recommendations.
9 Best Free Groovy Font Recommendations
Bring the audience feel nostalgic when they look at your design by using the following Groovy font types:
1. Tommy
For great branding or advertising designs, try using the Tommy Font. The appearance of this type is very clear because it is a bold font. The design is not too complicated but manages to convey a sweet retro vibe.
For some lowercase letters such as m, y, g, etc., there is a curly detail on one end of the letter. Tommy provides uppercase letters, lowercase letters, and numbers. There are not many fonts that provide as many properties as Tommy.
2. Nighty
If you're working on a project where the theme has to be cheerful, then an alternative choice of suitable font is Nighty. The design of each letter in this font is adorable because each end of the letter has a rounded corner.
You can use this font to create logos, branding, or even advertising because it has clear legibility. The wide font size also easy to steal attention.
3. Genty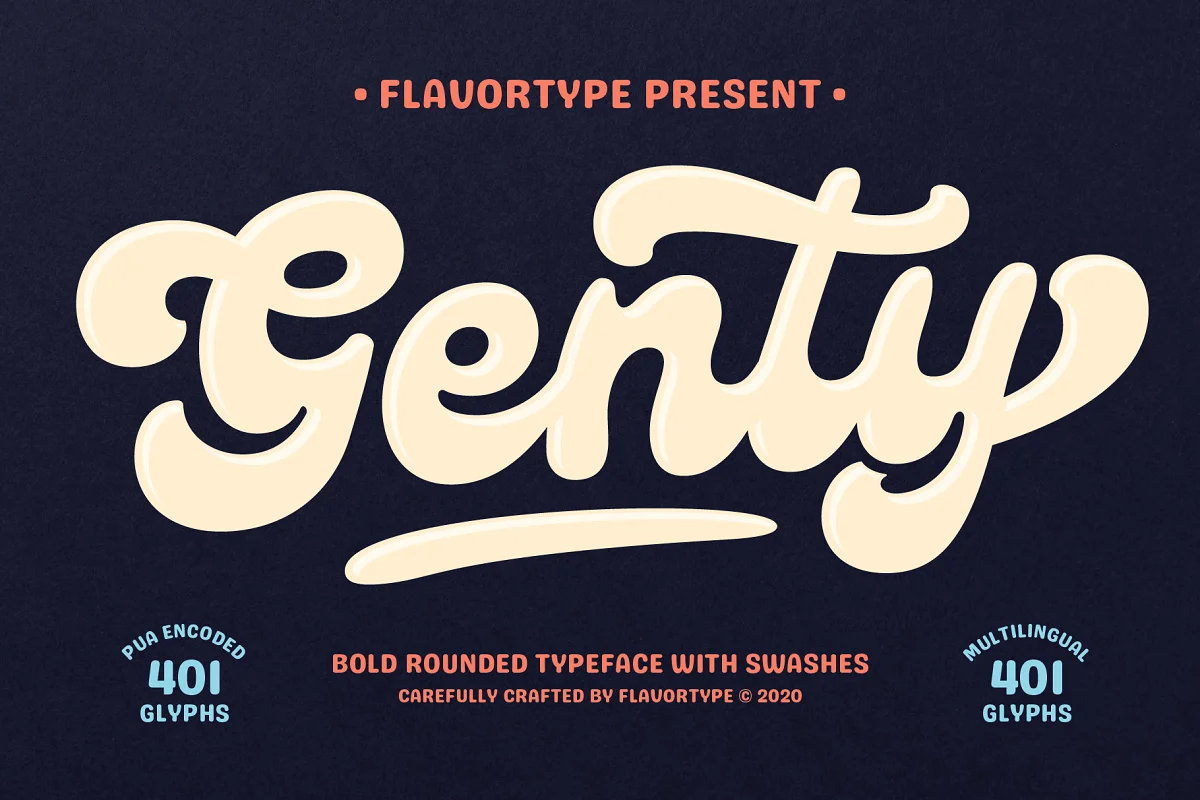 Creating a feminine and sweet design will be more interesting if you use cursive writing. This free Hippie font that you can choose is Genty because it looks very sweet and elegant. Genty really supports the typography of beauty products, fashion, and things related to elegant and feminine appearance. 
The thing that makes Genty's typeface enchanting is its simple curves yet give it an amazing retro touch.
4. Keep on Truckin'
For those of you who are working on 90s-themed designs, you can consider Keep On Truckin'. This font look will bring back memories of classic disco. The distinguishing feature of Keep On Truckin' is that each letter looks fat, and each end of the letter has a rounded corner. 
Also Read: 9 Best Romantic Fonts for Your Gorgeous Design
5. Margin
An alternative to Groovy Hippie Fonts that can bring the audience into the nostalgic style of the 80s is Margin. At first glance, it looks similar to Nighty, but if you pay close attention to the details, the two have differences. Margin uses a slightly different curve from Nighty in certain types of letters, for example, g, y, j, k, and others.
6. Abstract Groovy
Bring back the fun of the 1980s to your designs by selecting Abstract Groovy. This font only includes uppercase letters and numbers, so it's perfect for making announcements, posters or logo designs.
Uppercase letters will be easier to withdraw attention. Its legibility which is very clear, allows people to read more easily even though they only see it with the blink of an eye.
7. Nectarine
If you want to collaborate on a cheerful and beautiful typography look, use the Nectarine Font. Its appearance is similar to Keep On Truckin', but Nectarine adds detail extending downwards or upwards for certain typefaces. Even though Nectarine gives a touch of lines that look like tendrils but the legibility is so clear. 
8. Heavy Heap
Believe it or not, the font you use in typography will not only affect the emotions of the audience but can also generate energy. If you want to excite the audience, let's go with Heavy Heap because the design looks like flames!
Also Read: 9 Best Simple And Friendly Fonts In 2023, You Must Have!
9. Salatiga
The next free Groovy font recommendation is Salatiga from Fontspace. This bold font looks cute with the super bold and puffy parts at the bottom. While the upper design is a bit slimmer with rounded corners.
Which
Hippie Font
Fits Your Project?
Those are some types of fonts that carry a cheerful vibe and a nostalgic mood of the 80s and 90s. Each type of font has a unique letter design that is able to add artistic value as well as beauty to the entire design. You can find many other unique and cool fonts in Creatype Studio. Let's check it out!