Some designers might apply minimalist fonts to create a stunning design project through simplicity. However, the use of minimalist fonts may not always work in all design projects. For that, you can start thinking about choosing a funny font, a font that can bring a fun and playful vibe to your design.
Going for funny font means that you are taking a smarter and more creative approach to your design. This type of font tends to have an attractiveness that draws the attention of your audience. In addition, these are the perfect fonts for businesses and websites that implement a light-hearted and funny marketing style.
In this post, we have summarized the 10 best free funny fonts that you can get at the best place. Interested? If so, keep reading!
Top 10 Best
Funny Fonts Free Download
Below are 10 lists of the best free funny fonts that we compiled. All of them will bring fun and playfulness to any design project you are working on. So, check them out!
1. Funny & Cute
The first one is Funny & Cute, one of the funny fonts that comes with a fun yet bold outlook. This font is suitable to use for logo and website designs with a courageous feminine style. 
Whoever you are who has an advertising poster design project or website about women's perfume, facial soap,  adventure, and others, this is the perfect font for you to choose.
2. Kuattro 
Kuattro is a fun retro typography with a vintage feel. This font is capable of bringing out all the pop colors that appear magnificent. Moreover, it is a great font for anyone who wants to bring retro vibes in a fun way to their design projects.
3. Jumper 
Jumper, the fun display, is a font that gives an upbeat and fun vibe. Bring fun to your event posters with the various typefaces in this Jumper. So not only can you use it to grab people's attention, but also the font is perfect for any occasion. 
Also Read: Inspirational Fonts: 12 Best Fonts for Your Impactful Quotes!
4. Salatiga
The next level fun display font introduces Salatiga. A large and attractive display that can emphasize the fun side of your design. Salatiga is the perfect typeface for those who want to introduce a modern street style while also portraying fun in their design projects.
5. Hancoke 
Hancoke is an adventure fun display font perfect for kids and kindergarten events and posters. It may grab many children's attention. Thus, let's showcase the fun of children's events with the fun font styles found in Hancoke.
6. Bedtime 
The next recommendation is the Bedtime Story font. This font has a cute and fun appearance. Moreover, there are 32 ligatures and alternates that can make your project more interesting, of course.
Also Read: 8 Best Fun Summer Fonts to Add Cuteness to Your Design
7. Hattrick 
Another font that is perfect for kindergarten and children's events is Hattrick. It promotes a funny display font. You may combine it with any childish elements. Therefore, with its fun style, your design can truly show the fun of the event.
8. Brownies 
Brownies is a funny fluffy brush theme font suitable for children's events and birthday parties. Just like its name, this type of funny font is also perfect for the fun cooking event, poster designs, and cookie recipe books.
9. Mabook 
Are you ready for the next recommendation? Then, showcase your design projects with the funny style of Mabook font. It is the perfect font for fun event posters and various design projects you are taking on.
Also Read: 9 Best Simple And Friendly Fonts In 2023, You Must Have!
10. Grozel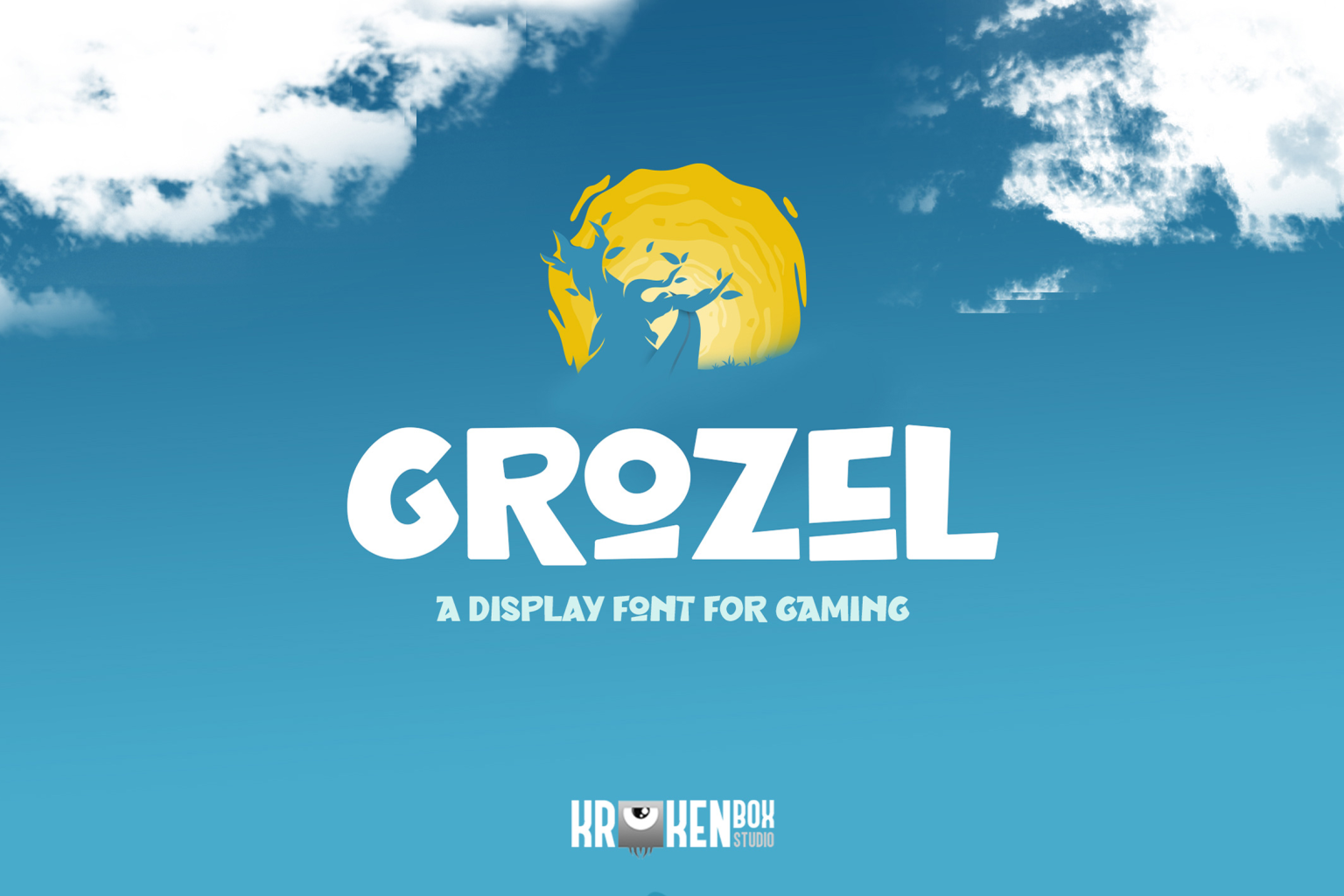 The last font type is Grozel, a funny font that features a fun, bold style. You can use this font for various event posters, branding, and any of your other design projects. So if you are looking for recommendations for your design, look no further than Grozel!
Have You Found Your Perfect
Free Funny Fonts
?
Not all fonts can fit well in various designs. When you need a font that can show the fun of your design, the funny font will be perfect for you. Moreover, you can find many choices on the Internet. 
If you are interested in one of the fonts from the list of 10 best funny fonts free download above, you can visit CreatypeStudio. Apart from funny fonts, you can explore and find various other types of fonts for free or for a $1 fee. So, let's visit the website now!