One of the essential things in your blog visual is font. It's related to your branding consistency and helps you convey the right message about your blog. There are many font options that you can choose for your blog. In this article, we will tell you about the best font for blog in 2023. 
20+
Best Font for Blog
Most Popular in 2023
The font that we recommend here is the most popular in 2023. It's readable for blogs or websites and it will be rendered well across different browsers, devices, and operating systems. We are sure it will be suitable for your blog! Let's check the best font for a blog below. 
1. Arial Narrow 7
Arial Narrow 7 is categorized as a sans-serif font which versatile for blogs and websites. It is a simple and readable font for your blog visitors. In addition, many people also use it in many advertisements, printed media, and online media.
2. Helvetica Grosse
This is the best blog font for creative design and Helvetica Grosse is suitable for any type of display. It's inspired by the regular Helvetica Font. 
Also Read: 10 Best Calligraphy Font Free Commercial Use
3. Chanceux

Chanceux is the best font for blog posts if you want to bring a pleasant reading experience with a modern stylish serif font. 
4. Darks Calibri Remix
Darks Calibri Remix is the most popular and the best font for blogs so that inspires the designer to make this Darks Calibri Remix for the artsy version of Calibri. 
5. Venerema Vintage 
Venerema Vintage is inspired by the classic capital letters. With this font, you also have the option to define the spacing between characters. 
6. Modest Stencil Sans
Modest Stencil Sans has consistent spacing, width, and length resulting in a modern and artsy look. Very suitable for a blog. 
Also Read: 20 Best Fonts For Professional Flyer Design
7. Harllem Display Vintage
Next, Harllem Display Vintage is a 90's font with creative looks. This font is excellent for adding a timeless, vintage vibe to your blog.
8. Connecticut 

This is a vintage stylish serif that was inspired by 60s to 70s vibes. Connecticut will make your blog look classic and elegant.
9. Kalistra
Wide character spacing makes this typeface easy to read and makes it the best font for blog posts. So, will you use this Kalistra font to write any article on your blog?
10. Komikaze 
Looking for a creative and fun typeface for your blog or design? You should use this Komikaze font. Simple yet fascinating to your blog visual. 
Also Read: Top 25 Branding and Logo Fonts You Shouldn't Miss Out On
11. Timeless Series
Timeless Series is a pretty popular font and is widely used in print media such as magazines and books. This is the best for professional-style blogs such as educational sites.
12. Roboto
Roboto is the best font for blog posts because it's widely used on the internet with geometrics leaning and easy curves that give your website a smooth reading rhythm. 
13. Open Serif
This Open Serif font is widely used on the web and mobile. We are sure this font will be the best font blog because it can work across devices. 
14. Lobster
This Lobster font type promotes dynamic and friendly look. It features a unique focus and offers lots of variations on each letter. Perfectly fine for your blog! 
15. Leo Semirounded 
The next best font in 2023 is Leo Semirounded. It has semi-rounded letters that can convey a homey and warm feeling. It's suitable for blogs with parenting niches. 
Also Read: 9 Most Recommended Thick Fonts That Look Heavy and Chunky
16. Oxygen
Oxygen Font Family is one of the most popular sans-serif fonts because it has a beautiful appearance and is suitable for use on mobile devices and any computer screen including blogs.
17. Hollies Ink  
This is the best font for a blog that is similar to the styling of ink pens. Hollies Ink is indeed a modern and creative version of past fonts. 
18. Coutline Stencil
This is a fancy font that can be good for a blog post because Coutline Stencil has a separate letter that makes it readable. 
19. Oswald
Oswald is inspired by the "Alternate Gothic" family. It's the intent of making them very good for screens to display. 
Also Read: A Comprehensive Guide on Serif Vs Sans Serif and How to Choose Them
20. Teko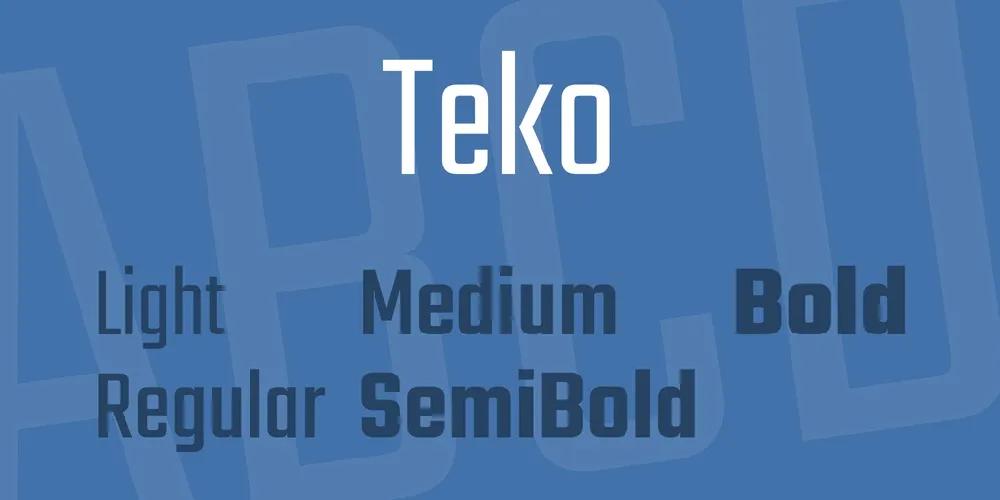 The following Teko font is the best font with its simple structure, stroke contrast, and regular square proportions. 
21. Montrello
Montrello is a versatile font that looks excellent in large or small sizes. This font has classy, sophisticated, and elegant looks that will be great for an antique niche blog or fashion niche blog. 
22.
Last but not least best font for blogs is Brig Maven. It has round edges with antique touch and is excellent for blog viewing on a PC or desktop.  
Also Read: Google Fonts, Typeface Solution for Web Designs
Which Fonts That You Love? 
That's all 20+ best font for blog that you can use on your blogs or website. Which font do you love to use on your blog or website?  Find any other creative, artsy, and beautiful font for your blog or website in Creatype Studio. There are tons of fonts that you will love.