Who says decorative fonts like signature font typeface would be too much for a branding design? 
The use of esthetic signature fonts supports designs and branding materials to deliver and gain a fondness bond for the creator of the brand it represents or the brand and their audience. 
If you find yourself wanting to add a more personal, alive, and authentic font touch to your design, just sit there and scroll down to discover 25 signature fonts suggested to create a remarkable design. 
---
Thinking about a signature font with a natural look of a handwriting typeface, then you can choose Evossry. Not only has a natural handwritten look, but Evossry provides classy curves. 
Combining Evossry with Sans Serif or one of Uppercase Serif fonts will create a flawless look. Hence, this font is compatible with branding projects and serves well for social media posts, packaging, wedding designs, photography, logo, and even stationery designs. 
Moreover, it works for PC and Mac with accessibility in Ai, Photoshop, InDesign, and Microsoft Word!
Learn More
Looking at Monsieur La Doulaise typeface immediately reminds us of typical written text from old times. The diagonal calligraphy strokes of its alphabet were generated by collecting different handwritten samples from the 1930's era, producing a really vintage yet elegant impression. 
Place this typeface on your thank you card, product packaging, a vintage poster design, wedding invitation, and many more to trigger that oldies sense.
Learn More
Another handwritten typeface model that has a natural chic nuance is Karllina. Yet, the curve is more clean, simple, and modern compared to the other two mentioned previously. 
You can access and use this font on PC and Mac, by installing it without additional design software. Providing multilingual support similar to Evossry, Karllina poses as a good choice of handwritten typeface for constructing a label, watermark, advertisement, social media post, loo, and many other design and branding projects. 
Learn More
While Agatha Christie, that brilliant English Writer, brings many stories with detective and crime themes, Agatha Christy font, contradictory to it, offers thin, smooth, and clean lines and ligature that drops more romantic and sweet vibes. 
You can use it at its best to produce quotes design, photography, product design, invitation, or stationery. Don't hesitate to try using it for branding or logo projects, too, by combining it with different typefaces.  
Learn More
Shaped based on its creator's handwriting type, James Fajardo has a vibrant touch and is considered a semi-lightweight font. The nature of this font typeface is the italic pattern. The alphabet character sets are legible in small sizes, and when set to bigger sizes, it will unveil the couthy hairline ink trails.
If you need a more masculine handwritten signature touch in your design for logo, Webfont, or digital advertisement, this versatile font will be compatible with your design needs. An additional feature is that James Fajardo comes with multilingual support for Western Europe, Central/Eastern Europe, Baltic, and Turkish.
Learn More
You can tell by its name and its character figure that the Dellyssion typeface is really a stylish type of signature font. There's a romantic touch in its thin ligatures that make the typeface look stylish and lovely.
Designed with multilingual support for mostly Africaans and European languages, with simple installation steps, you can start to produce eye-catching quotes, logos, and branding materials with Dellyssion applied in the design. Just for your information that the use of this font is not limited to the project mentioned earlier.
Learn More
Southam Demo offers you a more natural flow and hands scratches-like signature text. It also has an ink style that you can find when observing the character set, from upper and lower case to the beg.swash and end.swash. 
With that natural-like build, you can use Southam Demo font for business cards, product design, watermarks, photography, and wedding design projects. The font is available for PC and Mac, and accessible for Ai, InDesign, CorelDraw, Microsoft Words, and Photoshop, of course. 
Learn More
Another versatile hand-drawn signature with some masculine touch that you can choose is Edward Signature Script. With a simple installation to your PC or Mac, you can use this classy and masculine font for many design purposes without additional design software.
Learn More
Wyaletta Signature Script has a bold character in its curves, producing a sophisticated look. The character of this font makes it undeniably eye-catching, perfect use for photography purposes, advertisement, logo and branding, product design, and packaging. 
It is accessible for various design software and comes with three formats that will be suitable for your needs: OTF, TTF, and WOFF.
Learn More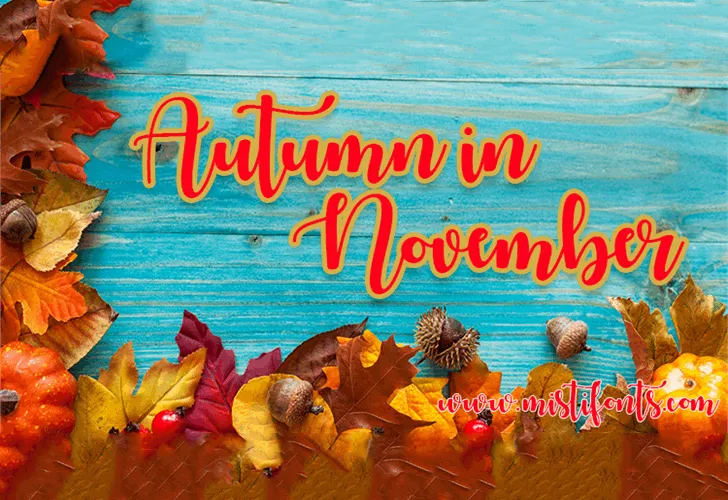 Autumn in November presents solid structure in its alphabet character. Some users say it best: it is a universal signature font, easy to combine with various types of design elements. It is perfect for photography, quotes or cute poster design, and product packaging and design. Not only accessible for PC and Mac, but it is also easily converted to Webfont!
Learn More
Simple stroke yet sophisticated, Magnolia font delivers a clear and stylish typeface. The font is also easy to mingle with other typefaces. You can apply this signature font for wedding invitations, branding and logo designs, and photography with its characteristics. 
With simple installation to your PC or Mac, you will also get support for special characters like ä ö ü Ä Ö Ü ß ¿ ¡.
Learn More
Chopin Script font is another handwritten typeface with that old yet classy nuance. If you feel the need for a fancy mood, this font is surely the answer. Chopin Script is perfect for designing a restaurant logo and branding materials, websites for the culinary industry, wedding invitations, or even business cards. 
Learn More
A blend of brush styling and hand-drawn structure built this font typeface. It is offered in three formats, WOFF, OTF, and TTF, but available exclusively in WOFF format for Webfont. It has somehow masculine curves that make the alphabet stand out in the design for branding or logo, photography, watermark, or product design and packaging. 
Learn More
Thermosd has a bold stroke in its curve ligature and form, making it also stylish. Perfect for social media posts, advertisements, and many other design projects, it supports special characters like Magnolia Stylish. 
Learn More
More like a script than a signature font, Adine Kirnberg Font comes in the italic pattern. This font can add a decorative look to your website but remain readable and legible enough for website visitors to look at. Adine Kirnberg Font will be a gorgeous pair to your designs. 
Learn More
Accessible for different design software, George Signature Classy seems to be built from a genuine signature. If you want to freshen up your designs a bit or create a fun design model, using this font is a great choice. It comes with standard glyphs but offers multilingual support, including these characters: ä ö ü Ä Ö Ü ß ¿ ¡
Learn More
Flowing effortlessly, the Great Vibes Font gives a more relaxed mood for horizontal eye reading. With tidy uppercase form, it generates a genuine great vibe for photography, branding, slogans, logo, and any other display design. 
Learn More
Sydhartta Stylish Signature fonts present clean strokes and curves. It has a thin ligature, which makes its appearance more stylish. Use it for various display designs to get a more fabulous look by the simple installation to your PC or Mac.  
Learn More
Add a more modern style to your design element by applying The Jacklyn Signature font. Yes, you heard it right; while The Jacklyn has an italic pattern, the form of its alphabet is more modern. Packed with ligature and stylistic alternate, it is perfect for diverse design projects!
Learn More
With a short ascender and descender, Alex Brush Font appears more feminine script than a typical signature font typeface. And that is what differentiates this font from other script fonts. The good news is, Alex Brush is free for both personal and commercial use, perfect for you who need to produce a safer visual design product without worrying about copyright!
Learn More
Signature font with signature style, Southampton has a fancy typographic that is packed in tons of glyphs, within uppercase, lowercase, numerals, and punctuation. Not only is the character set available in the three formats you need, but the swash will go along with WOFF, TTF, and OTF formats also. 
Learn More
Comes with an ink pen effect, this Creattion looks like manly natural hand-drawn that can generate attraction to people who look at it. This font will go perfectly for branding like interviews, business cards, product logos, and other visual design projects. It offers multilingual support and is packed with rich font features, including Stylistic alternates, Stylistic sets.
Learn More
Quickly Express Script has a thicker stroke and flowing curves, which make it seem to have a classy look. This font blends elegantly for different design projects that need a handwritten touch. 
Learn More
Halmahera has sharp yet flowy strokes that look seamlessly fresh. If you want to create awesome design projects for branding and logos, advertisements, or social media posts, try to use this one to get that freshness. 
Learn More
The last one is Scriptina which comes with low contrast but with huge numbers of ligatures. Scriptina can provide a royal style in design projects with ligatures that produce a calligraphy look. 
Learn More
Since it may be hard to choose one of the signature fonts mentioned above, try to stick to the principles that to create a really stand-out design, a designer needs to pay scrupulous consideration while setting the layout composition for every design element while using a decorative font.