Designing wedding invitation cards puts you at stake because of their importance. Choosing the right wedding invitation fonts can make a big difference in your design. These 25 fonts will help you create a beautiful, stylish, one-of-a-kind wedding invitation card and make your client's day special.
---
Attena allows you to create a calligraphic-style typeface with a modern touch. It has heart-shaped swashes that go perfectly well with wedding invitations. Attena mimics a beautiful cursive with rounded edges, ribbon-like bars, and elegant loops. Perfect for chic, stylish, but still romantic invitations.
Learn More
Gisella is a calligraphic script font with small loops that add a sweet touch to the typeface. The font mimics natural cursive handwriting with a warm, lovely touch. Its strokes have varying widths, and the font comes with heart-shaped ligatures for a stylish wedding invitation card.
Learn More
Want a wedding invitation font with class and intricate sophistication? Scriptina can be your choice. This artistic handwriting font has intricated lettering with exaggerated loops, bowls, bars, and swashes. Scriptina also comes with alternates regular versions to make your wedding invitation design more distinctive.
Learn More
Endless Loveness mimics natural handwriting with slightly wider spaces between characters. The result is a sweet, warm typeface that is perfect for a hopeful wedding. The thin, wavy bars and swashes add subtle elegance to this font. Endless Loveness imbues sweetness and warmth into your wedding invitation design.
Learn More
Bring out the ultimate elegance by using Precious, a script font inspired by elegant handwriting. This font pack comes with intricated, decorated swashes, adding a royal touch to your invitation design. This is a perfect font for adding high taste and class to your wedding invitation design.
Learn More
Heredittary is a script font with classy and tasteful lettering. It is a perfect font for creating an elegant typeface without losing the modern touch. It comes with beautiful, looped swashes and exaggerated stems that make your typeface more distinctive. Heredittary is an excellent font for making sophisticated invitations with a contemporary touch.
Learn More
Make your card personal with Aurelye, a wedding invitation font inspired by natural scribbling. The stark height differences between the uppercase and lowercase characters make your typeface stands out. Aurelye is perfect for highlighting the couple's names, especially if you pair them with stunning watercolor artworks.
Learn More
Brush font with cursive lettering is the "safe" choice for a classy and elegant wedding invitation design. Alex Brush Font keeps your design from looking boring because of "standard" font options. This script font has ribbon-like swashes and stems, with alternating ligatures and slightly slanted lettering for a more royal vibe. The brush pen effect makes your wedding invitation more exclusive.
Learn More
Anttelope is a handwriting script with lightweight strokes and beautiful movements. The exaggerated swashes give the lettering an extra flair, adding a special touch to your wedding invitation design. Anttelope is perfect for pairing with a minimalist but luxurious invitation design, with all the space allowing the lettering to shine.
Learn More
Great Vibes is an elegant handwriting script with a touch of joyful design elements. Its ascenders and descenders have looping effects, complete with swash tails that add warmth to the lettering. Great Vibes font is perfect for a wedding invitation design that reflects joy and warm happiness in its classy design.
Learn More
Classy and stylish, Enternity adds a bold touch through natural handwriting script font. Its form resembles natural scribbles, with looping ascenders and descenders. The thin strokes and slightly slanted lettering add a natural look to your typeface. Enternity resembles a fountain pen handwriting, adding a classy touch to your wedding invitation card.
Learn More
Another perfect wedding invitation font for "fun" design, Cristabella makes your card look joyful and quirky. The typeface has curly accents on its many parts, including the swashes. The artistic, uninterrupted ligatures add subtle elegance to your invitation design. It is a perfect font for creating a cute wedding invitation card that still has a classy touch.
Learn More
Adine Kirnberg is a beautiful handwriting font with a clean lettering style. The typeface is elegant and sophisticated, with a touch of classy handwriting. It has artistic, curled swashes that add distinctive marks to your invitation. Adine Kirnberg also has a consistent lettering style that makes it look quite regal. This font is ideal for wedding invitation cards that have formal designs.
Learn More
Bryan Kimberly adds a sweet, cheerful touch into an otherwise classy wedding invitation. A natural cursive inspires the lettering with a subtle freestyle look. The ascenders and descenders have large loops that make the typeface look distinctive. Bryan Kimberly is a perfect font for invoking spring or summer-like cheer and joy in a beautiful invitation design.
Learn More
Want to invoke the golden age of composers in your wedding invitation? Chopin Script Font is your option. The handwriting font offers an elegant and regal cursive style, with thin and exaggerated swashes that add flourish to your texts. The alternating ligatures add a subtle natural look to the typeface. Chopin Script Font makes your wedding invitation look sophisticated and regal.
Learn More
Just Signature is the perfect font if you want something more casual and contemporary on your invitation card design. The script font mimics a natural scribble of quick handwriting, almost like a signature. The thin strokes and sharp edges make Just Signature a modern script font, a perfect option if you prefer a more neutral-looking invitation design.
Learn More
Modern and chic. Halymoon is a script font inspired by cursive handwriting but with few embellishments. The typeface has sharp points and edges, complete with continuous ligatures and a slightly slanted look. The effect is less formal and more like standard modern writing. The thin strokes mimic a regular pen, adding a personal touch to your wedding invitation design.
Learn More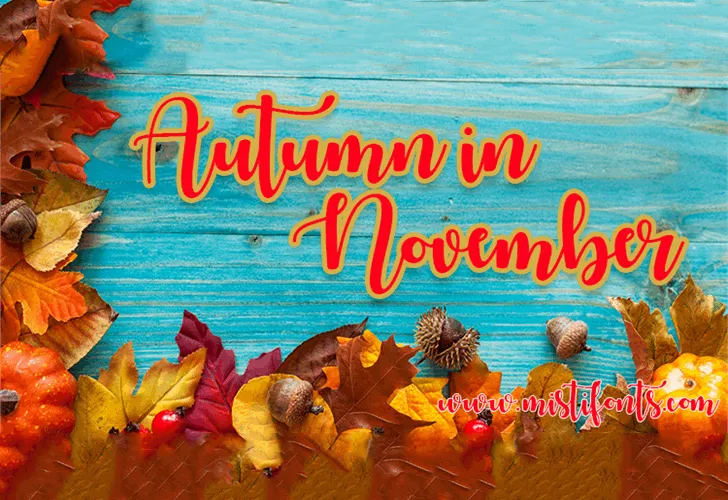 Autumn in November is the perfect wedding invitation font for a distinctive, fun, and slightly quirky card design. This handwriting font has high contrast and bold strokes, with unique ligatures and alternating thickness that add the special characteristic to your typeface. The swashes and bars are stylish but not dominating, perfect for a wedding invitation design with subtle elegance and a modern, fun look.
Learn More
Make your wedding invitation card look posh and expensive with Wyattruly Luxury Script. This handwriting font is elegant and sophisticated, with flowing style and looped swash that add gentle beauty to your typeface. Use this font if you want to accompany a high-end, luxurious, or classy wedding concept.
Learn More
Why stick with regular "pretty" font if you can choose the fun one? I Love Glitter is a handwriting font with continuous ligatures that connect every character. The scribbles have rounded edges and looping ascenders and descenders. The result is a quirky, fun, and cheerful look, perfect for a summer wedding. The font pack also comes with an artistic swash that has a heart shape.
Learn More
The gentle and airy Kalyna makes your wedding invitation look classy and sophisticated. The thin strokes are combined with extended swashes, contrasting heights between capital and lowercase letters, and looped ascenders. The typeface is elegant and restrained, but it still has distinctive elements to make it different from regular handwriting script font. You can also use it for wedding invitations with a classy or modern elegant look.
Learn More
Beautiful cursive design is often deemed too "old-fashioned" for modern wedding invitation fonts. Wonderlust comes to solve the problem. The handwriting script is contemporary and easy to read, a perfect combination for any beautiful wedding. Thin and a little flowy in its movement, Wonderlust offers a classically beautiful typeface for various types of wedding invitation cards. Wonderlust, however, also provides a modern and distinctive style subtly.
Learn More
ALS Script Font is anything but ordinary. ALS Script Font is the perfect font for simple invitation based on elegant cursive handwriting. The swashes and stems are elegantly executed, but the overall font still has a modern look despite being classically elegant. The texts will remind those who receive your invitation that they are special guests.
Learn More
Balony is a script font for contemporary wedding invitation cards. The handwriting is still classy enough for the posh and elegant typeface. However, the medium strokes and continuous scribbling with small loop effects make this font a perfect option for giving a chic, modern look. Balony makes the couple's names stand out on the card, especially if you surround them with other information.
Learn More
Finally, Anydore is beautiful script font deliberately created for a classy and beautiful invitation. The bold strokes are accompanied by exaggerated swashes, stems, and underlines. All of them make your wedding invitation design eye-catching. You can use Anydore to create classy, chic, sophisticated, or luxurious invitation cards. The font will stand out since people take the cards out of the envelopes.
Learn More
Designing a beautiful wedding invitation is not just about images, colors, and card sizes. Use the right wedding invitation font to create the right atmosphere and look for the wedding theme.